The new U.S. commander in Iraq said Tuesday that security in the country has improved, but is still in a "fragile state."
"As we've said many times, everyone is encouraged by the progress that has been made here in Iraq, but we still have a lot of work to do," said Gen. Ray Odierno, who took command of U.S. forces in Iraq on Tuesday. 

 Watch change of command ceremony »
Odierno replaced Gen. David Petraeus, whose tenure saw a reversal in the country's rising violence.
Gen Ordierno is getting a violent welcome
last  Thursday

BAGHDAD, Iraq (CNN) -- Two bombings overnight near major shrines in the holy Shiite city of Karbala left at least three people dead and 15 others wounded, an Iraqi Interior Ministry official said Thursday.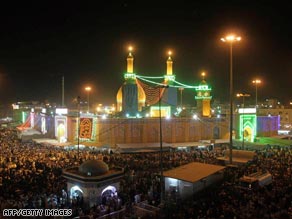 One of the blasts to hit Karbala came close to the Imam Abbas mosque, pictured here in August.
There were no claims of responsibility so far for incidents at the Imam Hussein and Imam Abbas mosques -- two of the holiest shrines for Shiite Muslims -- who regularly make pilgrimages to the sites in the south-central Iraqi city.
The first bomb, which had been placed in a trash bag, detonated shortly after 11 p.m. (4 p.m. ET) Wednesday about 800 meters (875 yards) from the Imam Hussein shrine and 200 meters (218 yards) from an Iraqi security forces checkpoint, the official said. One woman was killed and 12 others, including women and children, were wounded.
About an hour later, an explosive device placed in a car detonated about 500 meters (547 yards) from the Imam Abbas shrine, the official said. The attack killed one civilian and wounded three, and damaged a number of the houses in the area.
The two shrines are about several hundred meters from each other. Hussein, the grandson of the Prophet Mohammed, is revered by Shiites, while Abbas is Hussein's half-brother. Their tombs are located in the shrines.
Friday
BAGHDAD, Iraq (CNN) -- At least 30 people were killed and 45 were wounded by a suicide car bomb Friday in the town of Dujail north of Baghdad, the Iraqi Interior Ministry said.
The bomber struck the Dujail police station, but the casualties included only one policeman.
Almost all the casualties were outside the station because it is fortified with concrete barriers and blast walls, the ministry said.
The station is in the commercial center of Dujail, and its markets and shops were crowded with people buying food before Iftar, the Ramadan meal at which people break their fast at sunset.
Multi-National Division North issued a separate news release on the bombing, putting the toll at 31 killed and 40 wounded, and omitting the word "suicide" from its description of the truck. Coalition military casualty counts are often lower than those Two of the wounded were members of Iraqi Security Forces.
http://www.cnn.com/2008/WORLD/meast/09/12/iraq.main/index.html

The Iraqi Interior Ministry said the bomb was in a "big vehicle" carrying a very large amount of explosives.
The ministry said 15 of the wounded were in critical condition and were moved to a U.S. military medical facility nearby. Others were taken to hospitals in Dujail or nearby Balad, it said.
The attack happened around 6 p.m., shortly before sundown, it said.
Dujail, which is about 40 miles (60 km) north of Baghdad, is a predominantly Shiite town.
In 2006 Saddam Hussein was executed for crimes against humanity his regime committed in this town after a failed assassination attempt against him in 1982.
Dujail is about 40 miles (60 KM) north of Baghdad and is a predominantly a Shiite tow
Saturday
Bomber strikes in Iraq after drawing crowd to car crash

BAGHDAD, Iraq (CNN) -- At least six people were killed and 50 wounded when a suicide car bomber apparently staged a traffic accident to draw more victims to the explosion.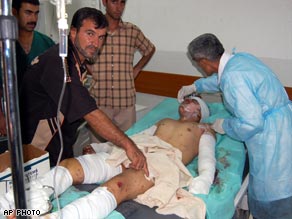 Saleh Bayati, 17 , is treated for injuries from Saturday's suicide bombing in Tal Afar.
The suicide attack happened around midday Saturday at an outdoor market in Tal Afar in northern Iraq, an Iraqi Interior Ministry official said.
The bomber got into a traffic accident and began arguing with the driver of another car, the official said. He detonated his car bomb as a crowd gathered around the shouting men, he said.
Police said the attack happened in the same market where a car bombing killed more than 24 people last month.
It comes as Muslims observe the holy month of Ramadan, a time when markets are busier than usual with people shopping for food and other items in preparation for the breaking of the daily fast at dusk.
Tal Afar, a largely Turkmen city near the Syrian border, is part of Nineveh province. Iraqi troops, backed by U.S. forces, launched an operation to crack down on al Qaeda and other Sunni insurgents in the province in May.
Also Saturday, the head of security for Iraq's minister of justice was wounded in an explosion in Baghdad. Lt. Safiih al-Zaboun was driving to his home when an explosive device attached to his car detonated, the Interior Ministry official said.
Other developments
• In Baghdad on Sunday, four roadside bombs wounded eight police officers and five civilians.
• North of Baghdad, in Diyala's provincial capital of Baquba, a roadside bomb targeting an Iraqi police patrol killed one policeman Saturday morning.
• South of Baquba, two men and a woman were killed when a roadside bomb struck the car they were traveling in on Saturday
Monday
BAGHDAD, Iraq (CNN) -- A female suicide bomber detonated explosives Monday evening in Balad Ruz, killing at least 20 people and wounding 30, according to the Interior Ministry and Col. Ragheb al-Omairi, a Diyala military spokesman.
Female Iraqi police recruits line up last week, part of the country's response to female suicide bombers.
The bomber struck as Iftar -- the meal that ends Ramadan fasting each day -- was taking place behind the home of a former U.S. detainee. Adnan Shukur had been released from U.S. custody Sunday, and his house lies behind the Balad Ruz police station.
Shukur is a former police official who was detained about a year ago, according to a security official in Diyala province.
Many people, including police officers, were at Shukur's house to congratulate him on his release.
It was not immediately clear if Shukur was among the casualties.
Balad Ruz is 37 miles (60 kilometers) east of Baquba, in Diyala province.
Wednesday
Five roadside bombs struck the Iraqi capital on Wednesday, one of which targeted the head of New Baghdad's district council, the official said. The council leader's driver was killed, while he and his security guard were wounded in the attack.
Another roadside bomb in eastern Baghdad killed an Iraqi policeman and wounded five other people.
Two other roadside bombings in the Iraqi capital wounded nine Iraqi soldiers and civilians.
Elsewhere on Wednesday, an assistant to the governor of Nineveh province was gunned down as he was leaving evening prayers in central Mosul, city police said.
Shamel Younis was walking outside the mosque when gunmen in a car shot and killed him, then fled the scene.
Thursday:
BAGHDAD, Iraq (CNN) -- A U.S. military helicopter crashed in southern Iraq early Thursday morning, killing all seven U.S. soldiers on board, the military said.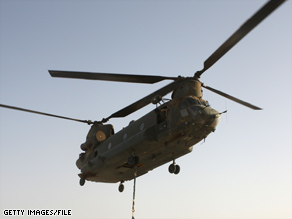 A U.S. Chinook helicopter, similar to this British Chinook, crashed in Iraq, the U.S. military said.
Officials have not determined the cause of the crash, but do not suspect hostile activity.
"Based on our initial reports, it is accurate to characterize this as an accident," said Maj. John Hall, a U.S. military spokesman.
The CH-47 Chinook was part of a four-aircraft convoy that was flying from Kuwait to Balad in northern Iraq. The chopper went down about 62 miles (100 km) west of Basra.
The other helicopters in the convoy did not sustain damage, Hall said.
The names of the soldiers were not released pending notification of next of kin.